KalyJay redefining music marketing & promotion using Twitter Spaces
When Twitter decided to launch their Spaces, they had expectations for it, but what social media influencer KalyJay is achieving with his space in Ghana will make Twitter proud.
AMI FAKU, MSAKI, TRESOR, OTHERS FEATURE ON PLATOON'S AFRICAN LULLABIES ALBUM
KalyJay (real name is Joshua Boye-Doe) using the handle @gyaigyimii on Twitter is a Ghanaian social media influencer with over half a million followers on Twitter.
Before Twitter space became a thing, Kaly Jay was already on the path to becoming Ghana's top-most Twitter influencer and now his reach has catapulted even further.
KalyJay used his platform to lead the hugely successful Fix Ghana campaign and he's back into the limelight due to entertainment.
Just a few weeks old, Kaly Jay's space has become a major hub for the Ghanaian entertainment scene.
In a country where Social Media is still second to Traditional media, KalyJay's Space is gradually becoming the first stop for musicians who need publicity.
KalyJay Space has so far hosted the likes of Wendy Shay, JoeBoy, Darkovibes, Kofi Jamar, Mr Drew, Ko-Jo Cue, and others but the biggest highlights have been hosting Ghana's rap icon Sarkodie and Nigerian afro-beats superstar Tiwa Savage.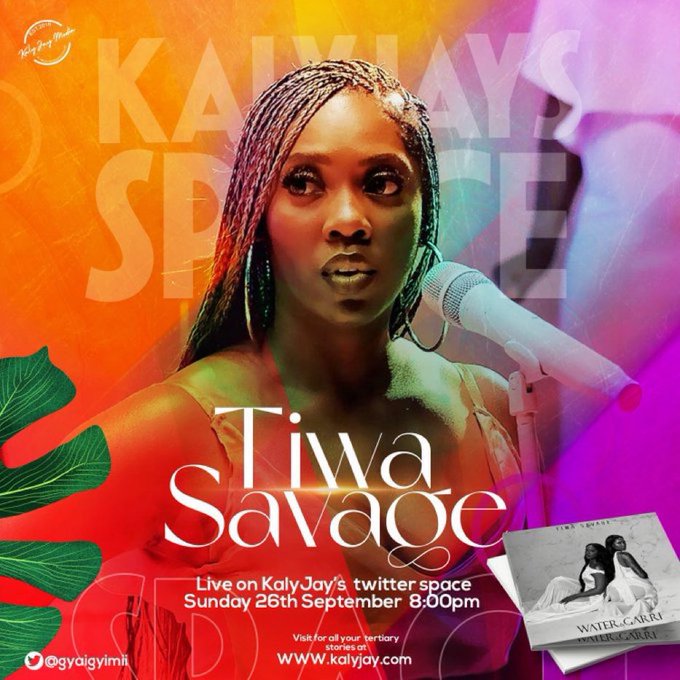 Although the Space is mostly attributed to KalyJay, he is ably assisted by his two co-hosts (or Friends) Sneaker Nyame and Asiedu Mends.
Sneaker Nyame has been a major contributor to the space using his humor, wittiness, and delivery. He recently announced to his followers he has had job offers from some Radio and Television channels courtesy of the 'Space'.
A graduate of the Ghana Institute of Journalism (GIJ), KalyJay and his co-hosts Sneaker Nyame and Asiedu Mends, allow numerous listeners to ask Guest questions by making them speakers or by reading their tweets.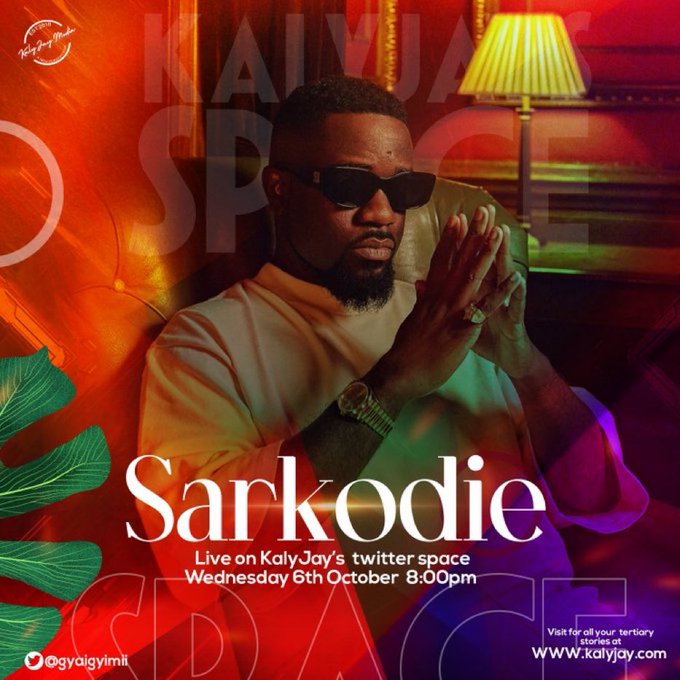 The Space can be compared to a radio interview but devoid of the usual news-driven questions, allowing the session a 'chill' vibe.
KalyJay's Space is such a big deal because it gives off a fan session vibe rather than an interview – thus it allows guests to relax whiles temporarily letting their guards down.
Thus it is never surprising seeing other stars join in as listeners when there is a session. One such big name that is usually on KalyJay's Space is actress Lydia Forson.
I caught up with KalyJay and he was kind enough to answer a few questions regarding his Space.
How did the idea (KalyJay Space) start?
So KalyJay Spaces started with Kofi Jamar. It was something I introduced to help him promote his new EP appetite for Destruction. I wanted something different and organic. I also wanted to create a platform where fans get to meet their favorite celebrities. With time it seems I'm achieving the purpose.
Did you ever think 'KalyJay' Space would have the impact, it is currently having?
Yes. Anytime I do something I try my best to do it close to perfection. My team and I after the first successful space wanted to keep building the numbers and keep the momentum going. We have had top Ghanaian and Nigerian artists coming onto the space. The long-term goal is to make it a global project. I want to host space with 10,000 plus listeners from all African countries and I'm working towards that goal with my friends.
How do you feel about its current impact?
The impact it has had in this short period is amazing. People direct message me thanking me for finally getting the chance to interact with their favorite celebrities. Others post screenshots of being in the same space with their favorite celebrities and all. The feedback has been amazing.
It hasn't been an easy journey for you, from building your audience, your account temporarily getting suspended, and hitting over half a million followers, how does it feel to attain heights some dream about?
I see a lot of people saying I've done well with the numbers I've gathered on Twitter in this short period and people applaud me for the impact I've been making on social media for some time now but I'm not happy. I want more, I want to be at a level where I can put the people around me on. I'm still hungry for more. And I'll keep working towards it.
The Space is more than just conversational as Kofi Jamar and Ko-Jo Cue have had their listening sessions for their respective EPs.
It has become a place where labels and artists see as a major marketing and promotional platform for their products.
Tiwa Savage was on to promote her 'Water & Garri' EP, Darko Vibes pushed his Je M'appelle single with Davido, whiles Joeboy tapped into the space to market new single Alcohol.
Story by Yaw Boadu-Ayeboafoh – Music Services Manager at Muse Media Networks